By Jason and Alisha Hagey
From the Lincoln Center Theater to Salt Lake City, in the beautiful George S. and Dolores Dore Eccles Theater, Broadway Across America brings us My Fair Lady, a sumptuous musical based on George Bernard Shaw's play Pygmalion. My Fair Lady tells the story of Eliza Doolittle, a Cockney flower girl who takes speech lessons from Professor Henry Higgins, a phoneticist so that she may pass as a lady in a flower shop. Along the way, Eliza and Higgins develop a complex relationship that challenges their views on social class and identity. In the end, transformations happen, and so does excellent theatre. Lerner & Loewe's My Fair Lady is a timeless classic that audiences have enjoyed for generations.
Bartlett Sher (Director) has ensured that this production is not a carbon copy of the film many of us have seen and loved. Instead, he has made the musical more accessible to a modern audience and given the show a freshness. His direction has altered line deliveries to provide them with greater subtleties. His staging is not afraid of making Eliza Dolittle more of a symbol, Colonel Pickering's sexuality less ambiguous, and Henry Higgin's actions reflect a younger, less world-wise man. The setting is 1912, and Sher leans into the show's timeframe with suffragettes on stage seeking voting rights. Society challenged England's rigid class system, which is in Shaw's Pygmalion, and Sher makes it a point to remember this time in history. Sher's vision of My Fair Lady is less romantic and more progressive.
The women in the cast are remarkable. Enough good can't be said of them and their work. As a whole, there is never a wasted moment. They act through the music. They listen and respond with clarity. You feel the pull of class and gender politics through just the smallest of motions.
If Evan Bertram (Eliza Doolittle) is the understudy (which is the Eliza we saw), I can only imagine how incredible Anette Barrios-Torres must be. Bertram gets to the heart and soul of Eliza. She is genuine and honest. We joy with her, fear with her, and sorrow with her as Eliza waffles in uncertainty and isolation. You might find yourself going to see My Fair Lady for the nostalgia and just incomparable music, but you will find yourself falling in love with the little details. Bertram connects with a small green book during the song "I Could Have Danced All Night." She's breathtaking. The little things she does make her one of the best Elizas an audience could ask for.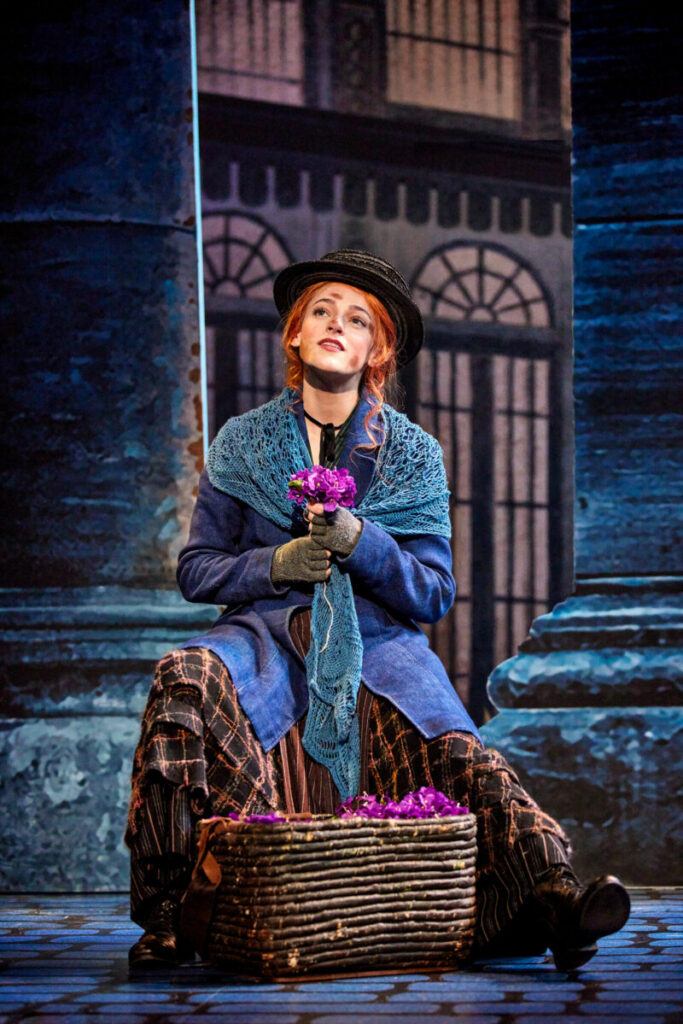 Becky Saunders (Mrs. Higgins) is a revelation. Her line delivery elevates what could easily be thrown away as fluff and a quick laugh. Saunders connects the text to the audience and brings it into a modern interpretation while still feeling faithful to the source material and the role of women in the period. Maeghin Mueller (Mrs. Pearce) is another phenom. We see Eliza through new eyes when Mueller interacts with Bertram and Grunert.
Jonathan Grunert (Professor Henry Higgins) gives greater depth to the character of Henry than I previously thought possible. This is never more clear than during "Without You." Acting beat after acting beat, you see Grunert shift through thought process and emotion. His cry to his mother is both humorous and raw.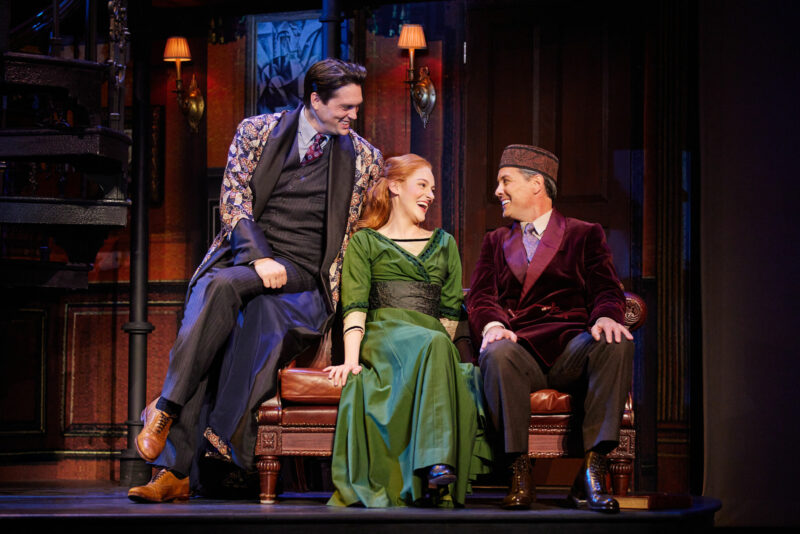 Taking the character into new territories, John Adkison (Colonel Pickering) makes the Colonel relatable, fun, and energetic. Adkison has the remarkable physical ability to portray a character with quirks and lovable mannerisms. For instance, whenever he drinks port, Adkison uses his whole body in a curved backward bend, getting up on his toes to finish a drink. The occurrences are small and easy to miss, yet they add so much to what makes Colonel Pickering a genuinely wonderful person. Adkison does the Colonel justice by taking him from a side character to someone important to the story.
"On the Street Where You Live" is one of those songs that always seems to wheedle its way into my subconscious. Nathan Haltiwanger (Freddy Eynsford-Hill) is a perfect Freddy. His performance of the song is excellent. His reactions to "Show Me" take Haltiwanger to another level. His Freddy feels more accurate to my imagining of Shaw's Freddy. He gives empty platitudes, and even when Bertram pleads to see and feel something real, he holds back as if incapable of filling her needs – all in one song when he's not even singing.
Michael Hegarty (Alfred P. Doolittle) is pure joy. Who doesn't love to love his character? "Get Me to the Church on Time" is every bit the showstopper you could want. The singing is perfect, and the choreography by Christopher Gattelli is divine and, again, filled with nuance and subtext. Hegartys Doolittle explores cowardice. He is big and bombastic but ultimately unable to make decisions for himself. Brilliant directing and acting and over-the-top delight for the audience make for an excellent Alfred P. Doolittle and the curse of middle-class morality.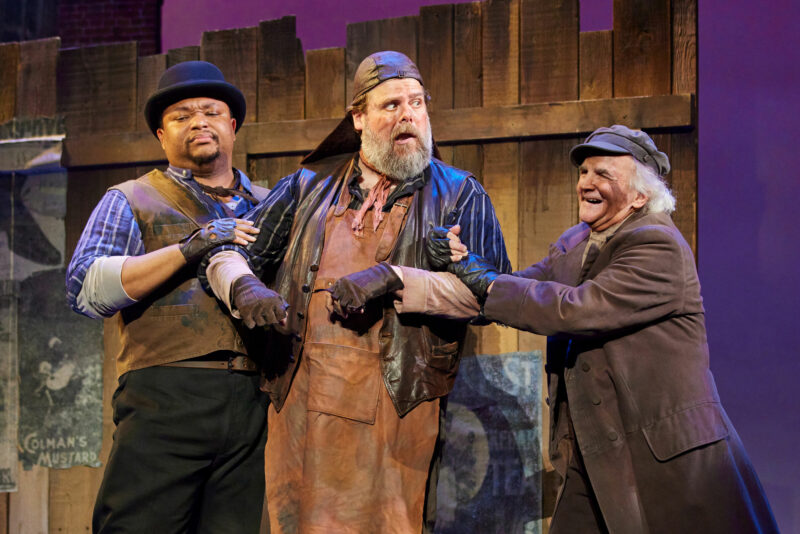 These small choices make this version of My Fair Lady something extraordinary. It must come down to Sher and his creative team. To consistently play with subtext without altering the text itself is simply brilliant.
Taking us into the decadence of the English aristocracy is Catherine Zuber (Costume Design). Each piece and each layer of texture is more inviting than the next. Zuber's designs are iconic, beautiful, and noteworthy for their exceptional sense of style throughout. Can I gush over just the hats alone in this production?
Creating a versatile yet exciting set for a traveling production is a feat, yet Michael Yeargan (Scenic Design) does just this. He takes the notion of theatrical flats and the forced perspectives of yesteryear theatre and provides new life. The dynamic scene changes move the story along, providing a backdrop to the action while giving a sense of period and space.
Donald Holder's (Lighting Design) vibrant lighting complements the scenic design. He has a sense of color and combinations of hues that provide time of day, time of year, a feeling of what the event on stage entails, and a representation of the more symbolic. At the beginning of the play, when Eliza is dirty and confused, the lighting is murky. At the end of the play, at the home of Mrs. Higgins, Eliza's insight and understanding are illuminated with brightness and clarity. Holder captures it all with brilliance.
Lerner & Loewe's My Fair Lady is still a classic but transformed by Bartlett Sher's vision and the work of talented actors and designers. This is an original and exciting piece of theatre that transcends its source material, remaining faithful to the original but becoming something new in the process. The cast's attention to detail and exceptional performances make this an unforgettable experience. This production of My Fair Lady is not to be missed.
Zions Bank/Broadway at the Eccles Presents: My Fair Lady 
Book and Lyrics by Alan Jay Lerner; Music by Frederick Loewe
Directed by Bartlett Sher
The George S. and Dolores Doré Eccles Theater
131 Main St, Salt Lake City, UT 84111
Duration: 2 hrs, 55 mins with 1 intermission.
November 12-18, 2023
October 12; 7:30 PM
October 13; 7:30 PM
October 14; 7:30 PM
October 15; 7:30 PM
October 16; 7:30 PM
October 17; 8:00 PM
October 18; 2:00 PM
October 18; 8:00 PM
Tickets are $55 – $159
Broadway-at-the-Eccles.com 
801.355.2787 (ARTS)
Purchase Tickets – Broadway Across America/Salt Lake City Broadway
My Fair Lady Touring Website
Broadway at the Eccles
Eccles Facebook Page
Eccles Instagram Page
Accessibility Information:

WHEELCHAIR SEATING
When purchasing a wheelchair space, you acknowledge that you or a member of your party requires accessible seating. You are also able to purchase up to three companion seats at the same price for the same performance.
ASSISTED LISTENING DEVICES
Are avail at all performances. Please visit the patron services window in the main lobby.

OPEN CAPTIONED
During our captioning performances, we offer a screen near the stage that will provide live captions throughout the show. Patrons who are interested in the captioned performance should select seats located at Orchestra Right on the Main Floor (excluding Orchestra Pit seating).
– My Fair Lady: Saturday, Nov 18, 2023 at 2:00 PM

AUDIO DESCRIPTION:
The spoken narration of the performance's key visual elements. This option is available on the following performances. Devices are available at the Patron Services window in the main lobby.
– My Fair Lady: Friday, Nov 17, 2023 at 8:00 PM