By Jason and Alisha Hagey; Front Row Reviewers
Pioneer Theatre Company's The Rocky Horror Show production thrills with indulgence and irreverent camp on the University of Utah's campus. This show is a musical experience of interactive entertainment and a unique orgy of outlandish hilarity. Rocky Horror is a parody and tribute to B-movies while simultaneously a message to those who feel they do not belong. Especially sacred to members of the LGBTQ+ community, the play encompasses sexual liberation, androgyny, queer visibility, and body positivity. A production of positive representation where we can see ourselves in empowering and freeing roles – Rocky Horror is a loving embrace of the whole spectrum of sexuality, gender, identity, and general humanity.
The Rocky Horror Show, taking its musical cues from the glam rock era, is the story of a naive, engaged couple who find themselves stranded in a storm and who happen to fall upon the home of Dr. Frank-N-Furter in their quest for a phone. What follows is an homage to Frankenstein but not like any Universal Picture or RKO production you've ever seen. I didn't know beforehand that the movie is an adaptation of a play performed first at the Royal Court in 1973 (I always assumed it was the other way around). Growing up with fond memories of attending midnight showings with friends, Rocky Horror always has a soft spot in my heart. The Rocky Horror Show gives us the camp, the glam, and the "Time-Warp."
All hail the queen of fun. Karen Azenberg (Director/Choreographer) pulls out all the stops. The show is high octane as audiences and actors intermingle for an unforgettable night. Azenberg deftly maneuvers movement to engage and delight. She captures the characters' essence, the plot's campy nature, and music, highlighting the incredible talent on stage.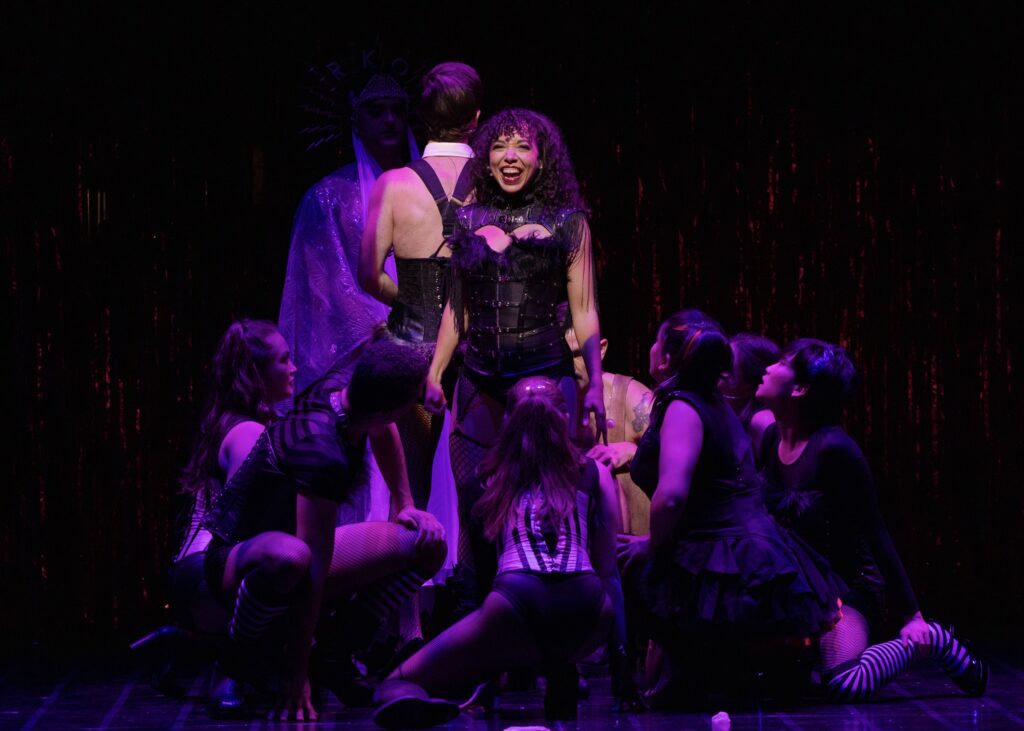 Alanna Saunders (Janet) steals each moment she is present. Her comedic timing is on point, and her ability to react is brilliant. Indeed, she brought something new to the character of Janet with the subtlest of motions. Like Saunders, the entire cast provides a real depth to simple characters. Heading this is Micki Martinez (Columbia). She isn't loud, but small movements and carefully crafted choreography give us a sense of longing and deep-seated frustration.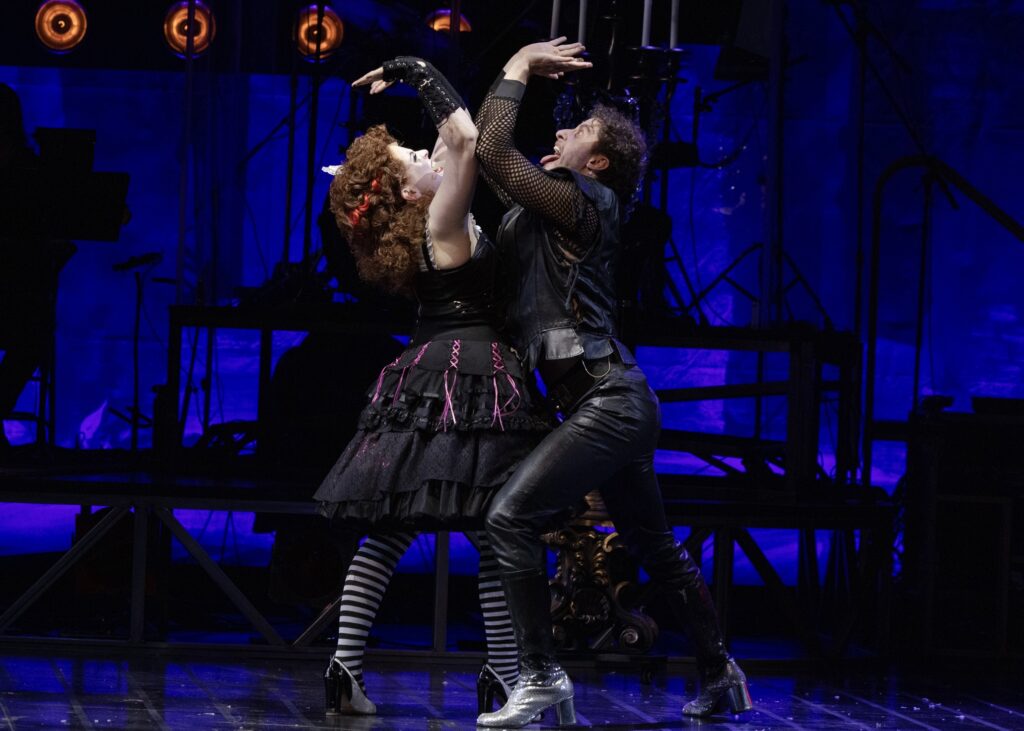 Ginger Bess (Magenta) has a killer voice. I can't get "Science Fiction" out of my head. Her strong vocals and energy are captivating. Jeremiah James (Frank) is everything you could hope for. Trying to fill the shoes of Tim Curry is impossible. James doesn't recreate Curry's choices but finds his own unique voice. He is hilarious. James especially shines in the absurd, over-the-top delivery and outrageous trysting with Saunders and Walton.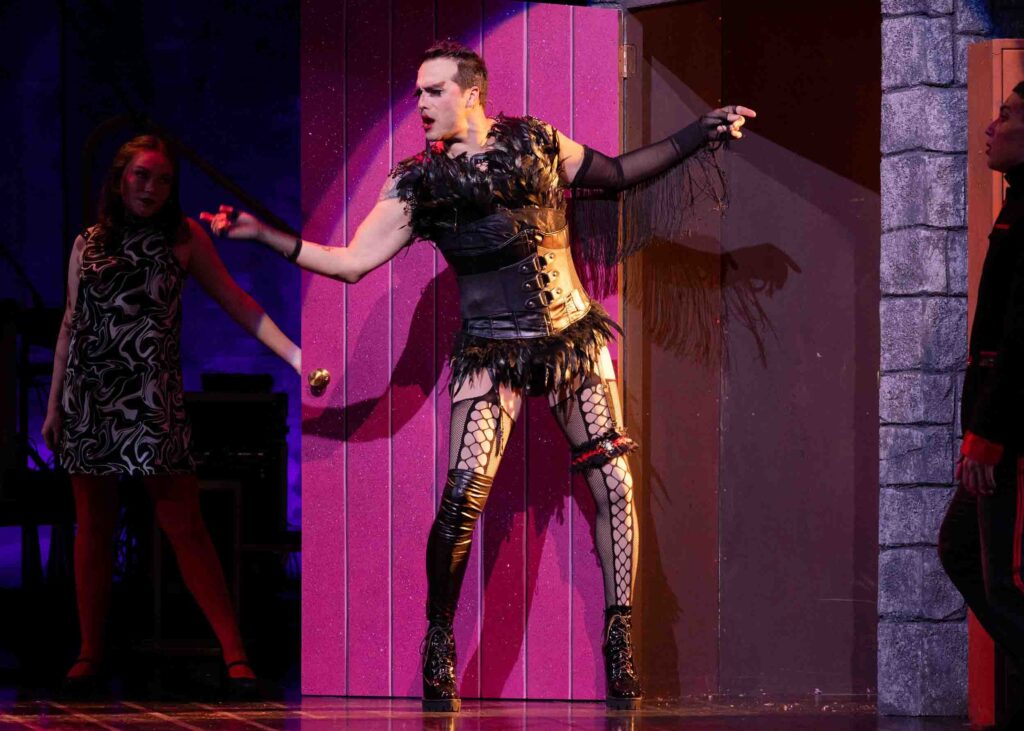 Hernando Umana (Riff Raff) has a commanding stage presence. He never upstages another actor and is arresting and powerful whenever he emerges. Alex Walton (Brad) is a delightful square. It is beautiful to watch his character evolve. Michael Dalke (Rocky) is a fantastic Adonis. He does have an immense talent (no innuendo meant). He is funny and goofy and just loveable. David Beach (Dr Scott) has a quirky energy about him. At times, I couldn't tell how he was moving his wheelchair around. His reveal during "Floor Show" brings the house into fits of laughter.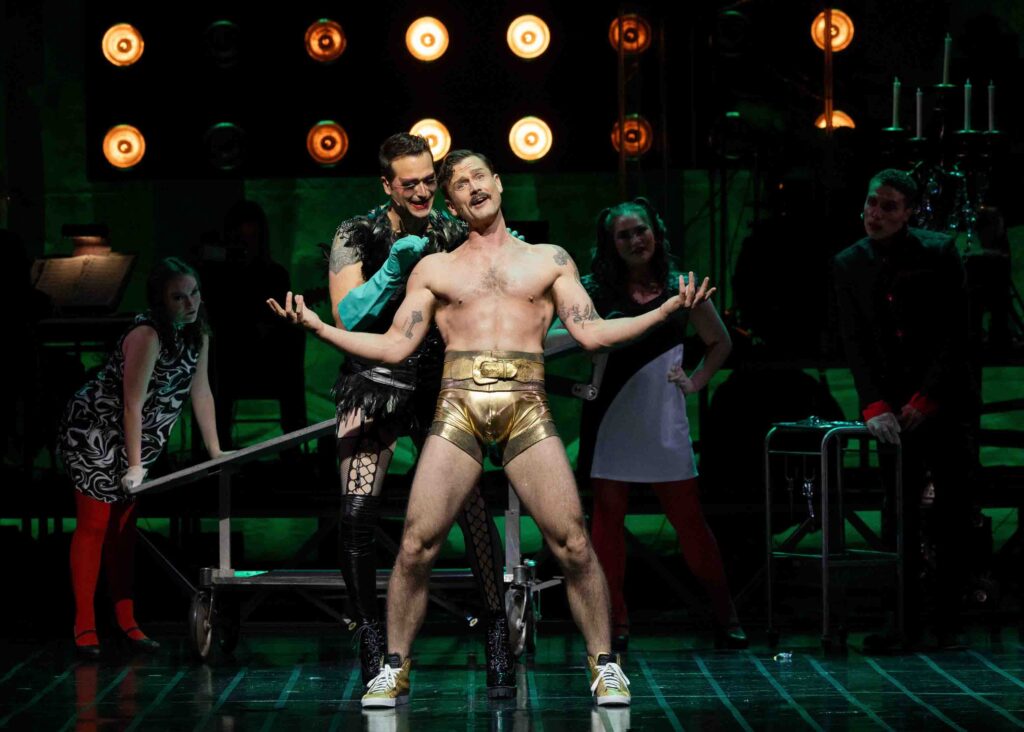 Lauren Crutcher, Jordan Cruz, Evan Latta, Lila Prince, and James Wong (Phantoms) have the right amounts of spice and sass. They all move beautifully, help bring the audience into the world, and add a texture that the show can't do without.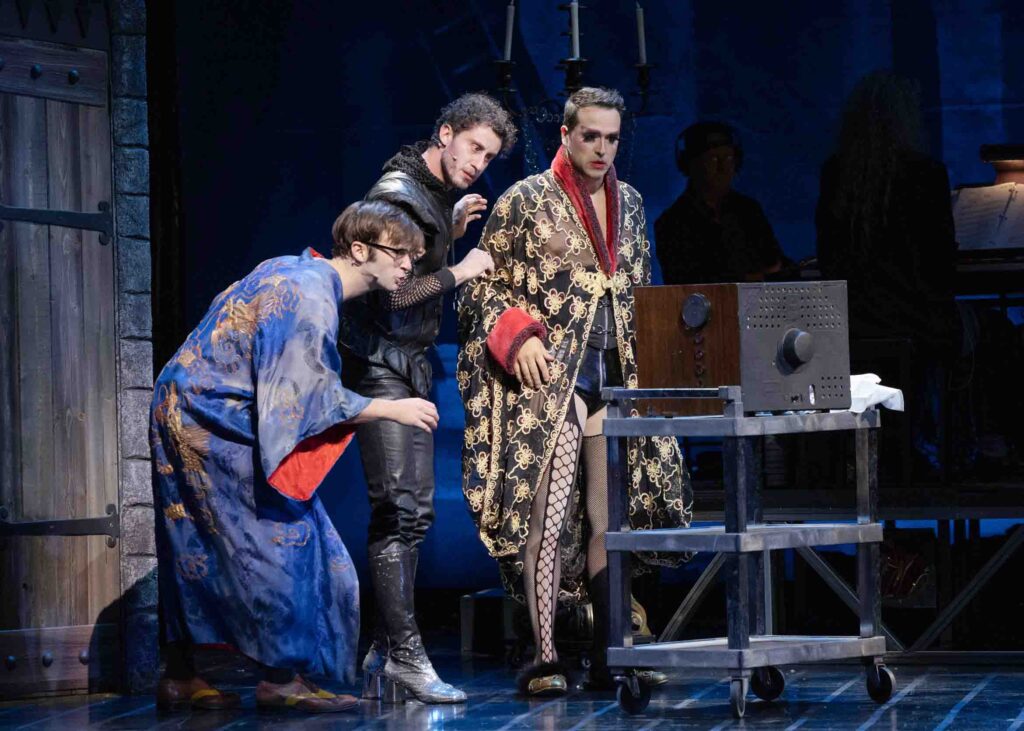 What witchcraft did Aaron Swenson (Costume Designer) do to have that many tights and fishnets throughout the show without ever seeing a pull or an unraveled edge? Swenson finds the delight in the absurd and makes sure the costumes match. Whether it is in the mod choices of the Phantoms or the loud robes of Saunders, Walton, and James, the costumes keep pace with the fast-moving – always over-the-top nature of Rocky Horror.
George Maxwell (Scenic Designer) creates a seemingly simple but lavish world for these crazy characters. I loved the backdrop of the castle. Maxwell paid tribute to the show's origins, reminding us at all times that this is a play inspired by countless B-picture monster movies. Aaron Spivey (Lighting Designer) always remembers that, above all, this is a rock show. His lighting gives a sense of being at a concert.
The Rocky Horror Show embodies a particular mantra by its end. The specific lyric is said by Frank: "Don't dream it. Be it." The call is one to go beyond the normal. Rocky Horror sees everyone, especially those cloaked in conformity. The show understands that sometimes stretching beyond social acquiescence can be terrifying; allowing ourselves to give in to our flesh can be seen as a sin. The clarion call asks us to stop dreaming of our full-fledged selves and finally become who we are. With a deep love for the story, the script, the characters, and the audience, the director, actors, and designers of The Rocky Horror Show incorporate us into the symbolic narrative – one about our awakening to see our true selves and then to become that. This message is delivered in the most entertaining way possible and is one to experience for yourself. 
CONTENT ADVISORY
LANGUAGE: There is a small amount of strong language. The production, written in 1973, also contains some outdated terms, which in 2023 might be deemed offensive: i.e., "transvestite."
SEX: The Dr. Frankenstein character, Frank-N-Furter, is a sexually fluid alien from "Transsexual Transylvania" who seduces Janet and Brad.
VIOLENCE: As befits a horror movie, there is a gruesome murder and a fair amount of blood, all played to comic excess.
FOR WHICH AUDIENCES? The Rocky Horror Show is not for conservative audiences or pre-teen children. High school students have embraced the movie for 40 years, but children should attend only at a parent's discretion. The film version (The Rocky Horror Picture Show) is rated R.

INTERACTIVE PROP KITS
The Prop Kit is an integral and iconic part of the Rocky Horror experience. During the performance, at the urging of the Narrator, audience members become part of the storytelling with a pre-assembled group of show-specific props. The kits are now available for pre-order for $5 or can be purchased at the performance. Pre-ordering a kit is recommended. Please note that homemade/outside/non-PTC kits or props will not be permitted into the theatre.

RUN TIME
The Rocky Horror Show lasts approx. 1 hr 45 min (including a 15-min intermission)

Pioneer Theatre Company presents The Rocky Horror Show: Music, Lyrics, and Book by Richard O'Brien
Simmons Pioneer Memorial Theatre, 300 S 1400 E, Salt Lake City, UT, 84112
October 20—31, 2023
Tickets: $55 – $79 in advance; $5 more when purchased on the day of the show
Students K – 12 or ages 5-18 are half-price Monday – Thursday
Box Office: 801-581-6961
Open 10:00 AM – 6:00 PM, Monday – Friday
PTC Show Listing: The Rocky Horror Show
Pioneer Theatre Company Instagram Page
Pioneer Theatre Company Facebook Page
Rocky Horro Show Promo Video

The role of THE NARRATOR will be played in rotation by Steve Urquhart, Babs De Lay, and Randall Carlisle. Their current performance schedules are below. Please note that appearances are subject to change should special circumstances dictate.

Friday, October 20: 7:30 PM | Narrator: Steve Urquhart
Saturday, October 21: 2 PM* | Narrator: Randall Carlisle
Saturday, October 21: 7:30 PM | Narrator: Babs De Lay
Sunday, October 22: 3 PM | Narrator: Steve Urquhart
Sunday, October 22: 8 PM | Narrator: Randall Carlisle
Monday, October 23: 7 PM | Narrator: Babs De Lay
Tuesday, October 24: 7 PM | Narrator: Randall Carlisle
Thursday, October 26: 7 PM | Narrator: Steve Urquhart
Friday, October 27: 7:30 PM| Narrator: Randall Carlisle
Saturday, October 28: 5 PM | Narrator: Babs De Lay
Saturday, October 28: 9:30 PM | Narrator: Steve Urquhart
Sunday, October 29: 3 PM | Narrator: Babs De Lay
Monday, October 30: 7 PM | Narrator: Randall Carlisle
Tuesday, October 31: 5:30 PM | Narrator: Steve Urquhart
Tuesday, October 31: 10 PM | Narrator: Babs De Lay

*ASL-interpreted performance

ABOUT PIONEER THEATRE COMPANY (PTC)
Now celebrating its 62nd season, the award-winning PTC is Utah's premiere professional theatre
company and leading arts organization of the West. Led by Artistic Director Karen Azenberg and Interim Managing Director Diane L. Parisi, PTC presents world-class productions that celebrate diversity in culture and society and serve as the connecting bridge between art and scholarship as an affiliate of the University of Utah. For more information, visit PioneerTheatre.org.