Review by Avery Dall-Hilton, Front Row Reviewers
With the current resurgence in fantasy mania, playwright and director Andrew-Elijah Schindler brings a fresh and thrilling tale to seekers of medieval mayhem, whimsical wit, and fantastical fun with The Queens Bones, presented by The Hive Collaborative. Front Row Reviewer always loves supporting small theatre and original works, and Schindler's production does not disappoint. With a stunning setting in a fantastical world reminiscent of Middle Ages Russia, everything from the colorful costumes to the actors' outstanding chemistry is a truly delightful experience.
The story follows a jester and her snake assistant as they travel to the castle of the new king with a secret mission. With the old queen overthrown, a new and mysterious king has taken her place. The jester, a master of storytelling, must learn the true story about the king, put her friendships to the test, and discover where her loyalties lie before it's too late. Without giving away too many spoilers, in this production you can expect to see epic sword fights, magical powers, witty banter, and more than a few unexpected twists.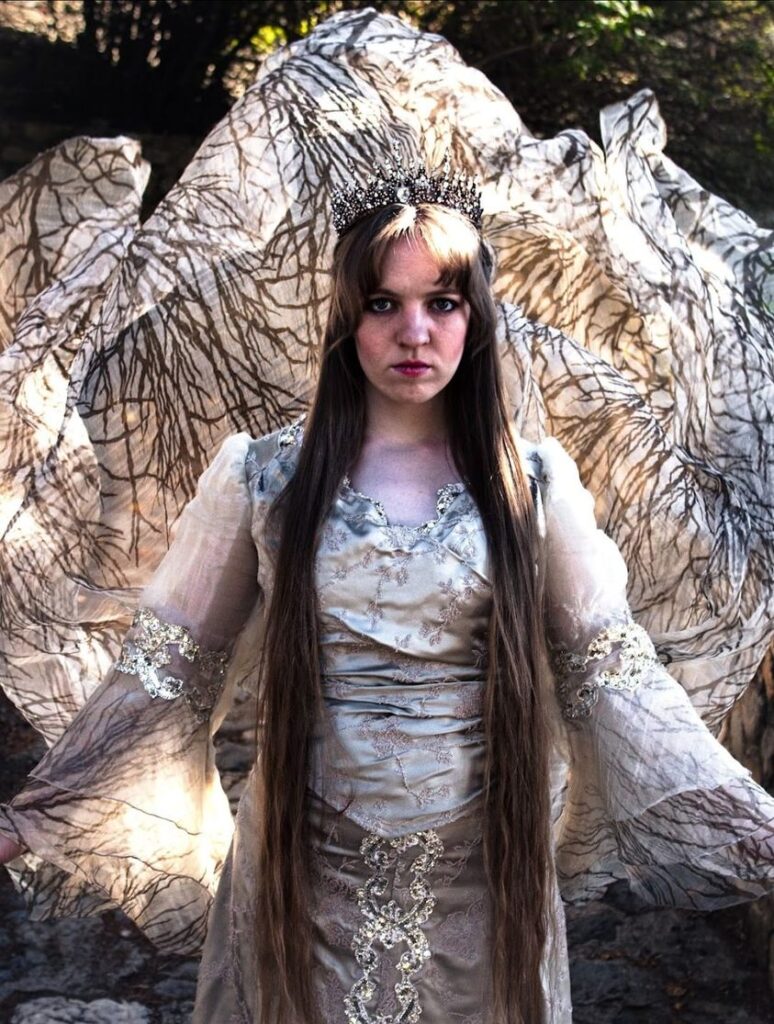 The talented cast consists of four fabulous actors: Genevene Schindler brings to life the primary character of Bones, a jester who hides a dark past behind her mirth. Schindler breathes so much energy and life into this character while at the same time portraying the complex emotions and relationships with effortless grace. Best friend and ally to Bones is Sasha, a speaking snake with a keen wit and dogged determination. Not only does Kim Wille act the part of the serpent, she also operates the cleverly designed puppet of the animal sidekick. The effect of the puppet paired with the actress is a fun and spunky character. Jaren Raymond plays the part of Shepherd, a complicated king struggling with imposter syndrome. With Raymond's background in Shakespeare, he portrays the medieval king with confidence and power, giving the audience a real sense of empathy as we go on a journey with him. Lastly but certainly not least, Boglárka "Buttercup" Izśo plays the deathless queen, Svetka. You'd better hope she's not looking your way as Izśo has the uncanny ability to make you feel like she can see into your soul. Her performance of the witch-queen brings an icy chill every time she enters the stage.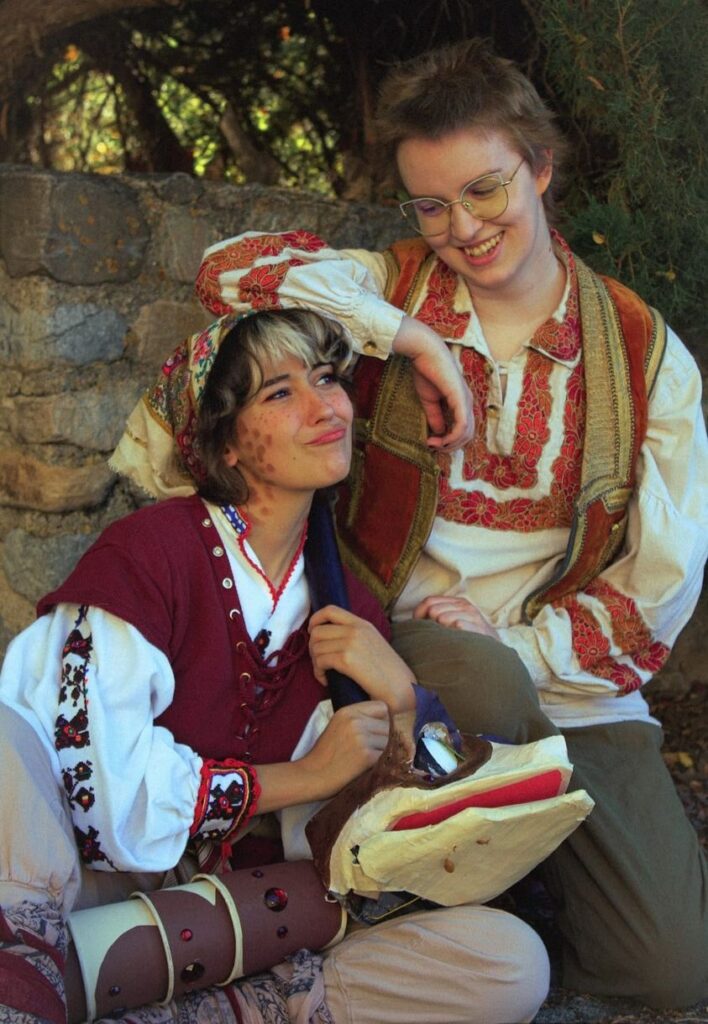 Of course, without the tireless work of the behind-the-scenes crew, The Queen's Bones could not have come to fruition. The stunning costumes are immediately eye-catching and remarkably detailed. They were designed by Ryver Mecham and instantly transport us to the kingdom far away. Another striking element of design is the lighting, done by Gabi Pack. With no set changes, the lighting accomplishes the enormous task of letting us know where we are at any given moment. As mentioned before, the show also relies on puppetry for Sasha's character. The team responsible is Schindler himself, Cooper Tribett, and Selah DeGering (who also assists the director, stage manages, web designs, and serves as artistic director for the production). The design for the snake is charming and imaginative as she slithers around the stage, moves her eyes, opens and closes her jaw, and even sticks out her tongue! The entire team should be very proud of their designs and hard work, including combat specialist Hunter Aro, set designer/prop specialist Elisabeth Goulding, and advertising specialist Walter DeGering.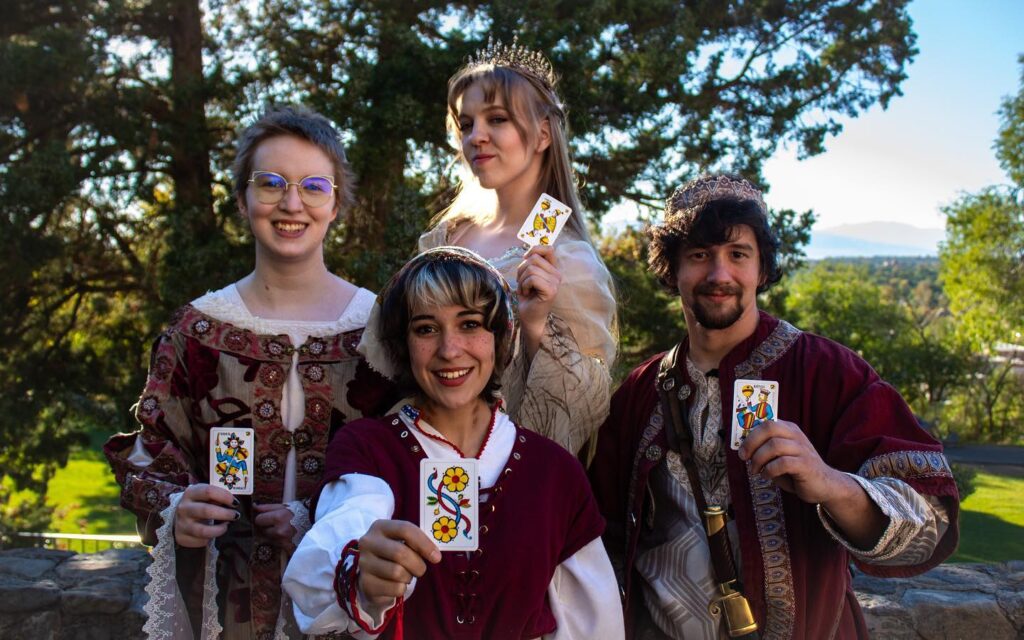 Sometimes taking a chance on new and unestablished theatre can feel a little daunting. I hope this show can be one you put on your list, with your expectation of being charmed, thrilled, tickled, and certainly surprised. This production truly does have something for everyone, whether you enjoy high fantasy, engaging comedy, or just a bit of spookiness for the season. Don't miss your chance for a night out with family or friends this weekend at The Queen's Bones.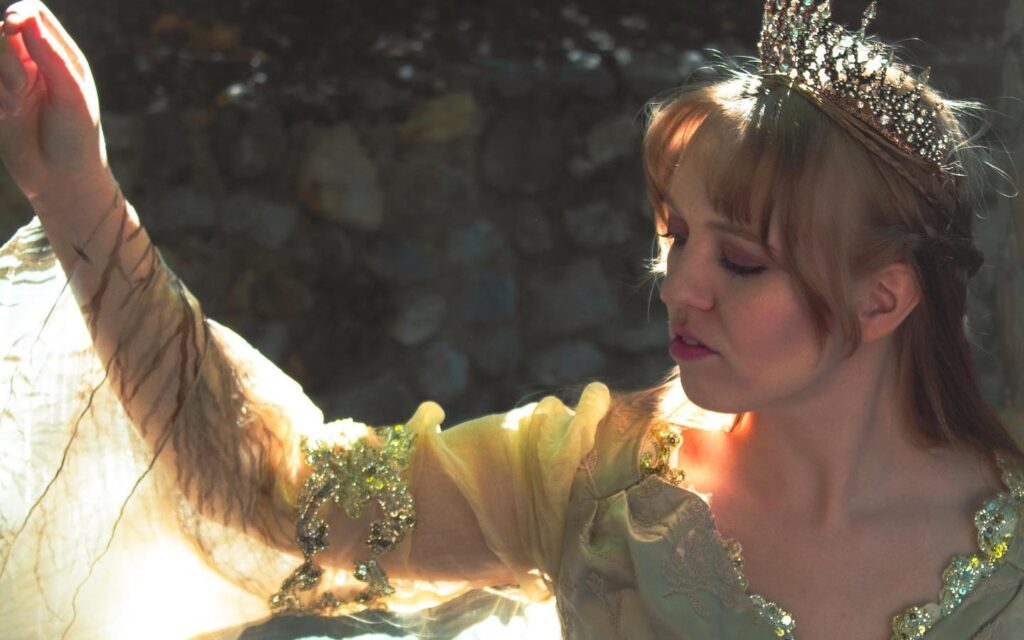 A review by Front Row Reviewers. The Hive Collaborative Presents: The Queens Bones by Andrew-Elijah Schindler.
The Hive Collaborative, 591 S 300 W St. Provo, UT 84601
October 19-20, 7:00 PM; October 21 2:00 PM, 7:00 PM. Stream it! October 20-21
Tickets: $15 (discounts available)
Photos courtesy of Aubrey Johnson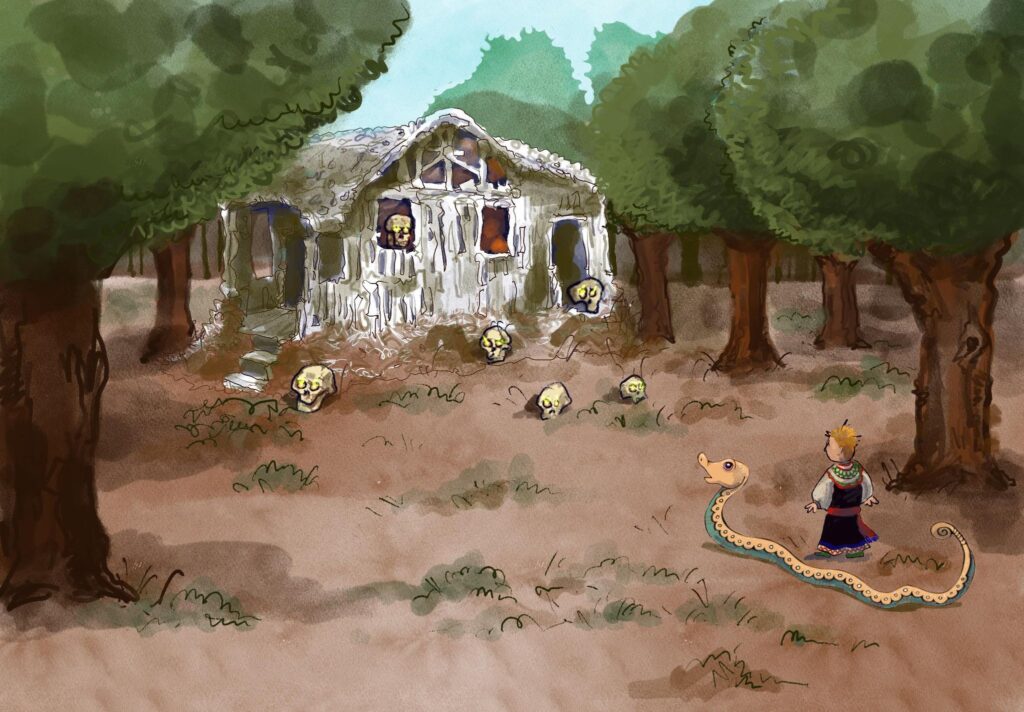 Audiences are advised that this show contains instances of stage violence (sword fights, some physical combat, and an instance of animal violence toward a puppet).