By Becky Evans
Each fall, Farmington City sponsors a dinner theater in an intimate gathering of good food and company that is just delightful. This year's production of The Foreigner was exemplary. The Foreigner is a remarkable play that explores themes such as connection, ignorance, introverts, and comradery.  The play centers on a man who feels socially awkward and ends up at a bed and breakfast. Because he doesn't want to be forced into small talk, his friend tells the house guests that he is a "foreigner" so they can't speak to him. He is welcomed with true Southern hospitality and guests open up to him because he is such a good listener. The Foreigner is a 1984 two-act comedy by American playwright Larry Shue.
The dining experience began as patrons enter the theater and are greeted and brought to a table with a server who is already aware of their dietary needs. Warm soup and yummy pulled pork and sides exemplify Southern comfort foods which is what Director Spencer Bawden was aiming for. My personal favorite was the fresh Dutch Apple and Peach cobbler with ice cream that was melt in your mouth yumminess. Executive Producer Tia Trevino welcomed everyone and warned us to keep track of our socks because the cast was bound to knock them off- and they did!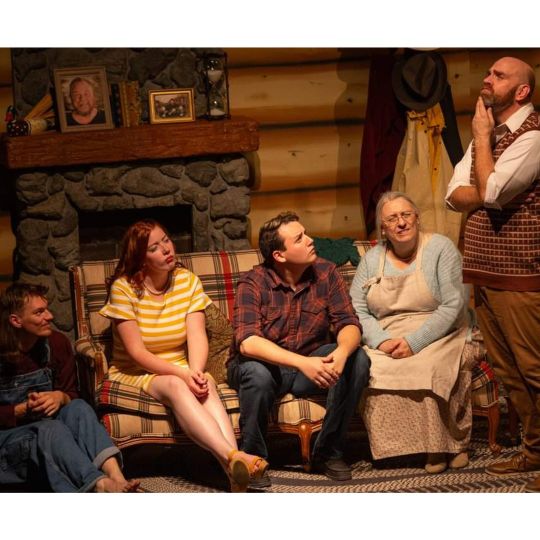 Several of the actors gave stand out performances which combined with aspects of set, lighting, and direction leant to great storytelling. Like good theater is meant to, I was able to immerse myself in a new world as if I was myself visiting a foreign land.
A standout character is that of Charlie played by James Boley. Because he was the foreigner and pretending to not speak English, he had to act purely through facial expressions, gestures, and then intonation as he began to repeat Ellard's words as part of his English lessons. Without giving too much away his story time left the audience in stitches as he continued to develop a personality. David, played by Carson Bateman, initially came across as a stand up great guy who the audience learned was not all that he seemed. He was a character the audience loved to boo. Froggey (Brent Johnson) had a lot of dialogue which he performed in an English accent which he kept consistent and relatable throughout his performance. Betty (Gretchen Bull-Switzer) opened the show welcoming visitors to her southern bed and breakfast with a strong accent and character choices that made her instantly likeable to the audience. She has strong comedic timing as she doesn't let Charlie stay a stranger for long.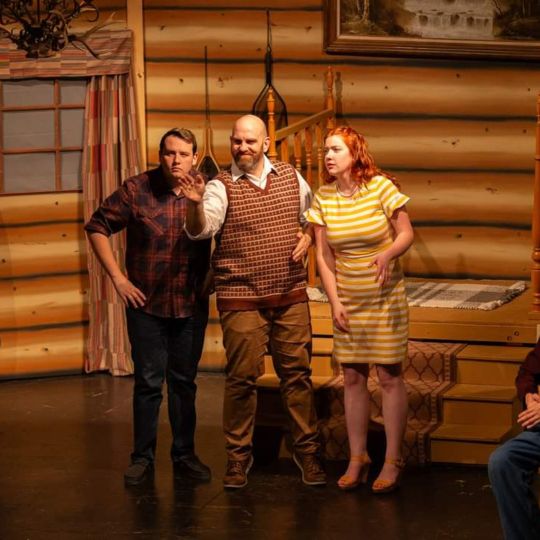 Joseph Nichols plays Owen who is another character the audience loves to hate. He has the difficult job of coming across harsh and ignorant without going over the top and Nichols manages this balance well. Alison Mitchell plays Catharine has a flair for the dramatic in addition to amazing red hair. Mitchell has the grace and poise of a southern belle while also demonstrating the entitlement and naivety of an ex-debutant. Ellard (Grant Christopherson) can be portrayed one-dimensional but Christopherson created a character that was able to grow and change without being overly-stereotypical. He showed great dedication to his role even sporting a long mullet with short sides and top that were perfect for Ellard.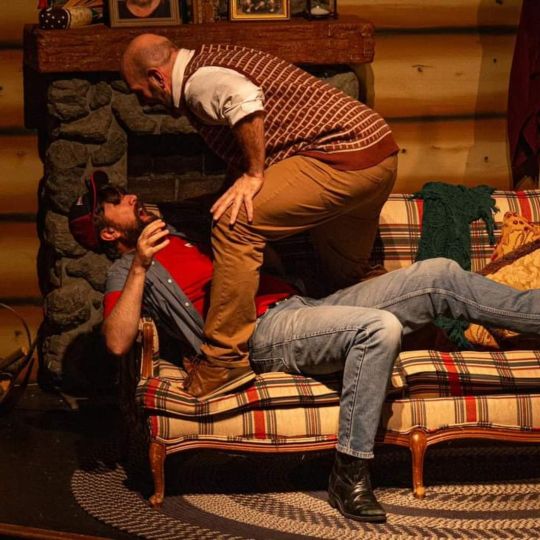 One of my favorite pieces of the set was an amazing floor to ceiling rock fireplace that Bawdin created with foam, glue, and paint with the addition of antlers created a perfect lodge house look. As often is the case with community theater, the actors wore several hats. Bateman also served as producer for this show. Bawdin, Biesinger, and Boley designed and built the set that was dressed by Barbara Lutz with great attention to detail. Ali Arbuckle costumed The Foreigner with attention to period and location. Tery Binkard and Sarah Wheelwright served as the tech booth leads with community volunteers and family members stepping in as servers and clean up crews.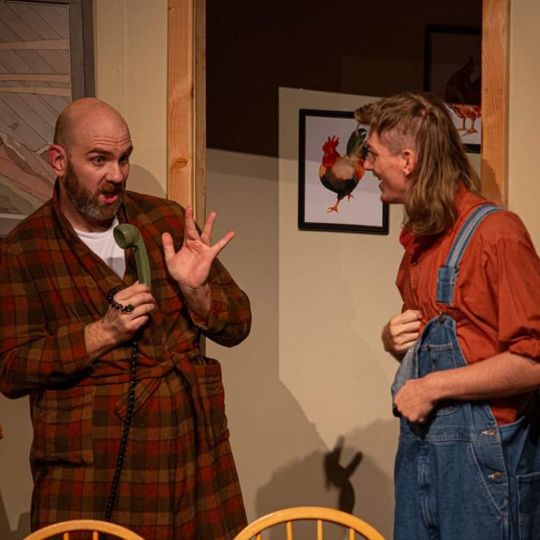 Altogether, this team produced an excellent show, dining experience, and night of entertainment. One of the closing lines of the play is, "We make each other complete." This is true in community, in theater, in neighborhoods, and family. Although this show closed, watch for opportunities to be involved in Farmington Theater as they do a summer production, fall dinner theater, and two youth productions each year. Their next show is Annie Junior which runs November 15-18. More information can be found at https://farmington.utah.gov/parks-rec/performing-arts/
Farmington Parks & Rec presented The Foreigner, by Larry Shue.
120 S Main St, Farmington, UT 84025
Contact:  (801) 451-0953