Review by Jason Hagey and Alisha Hagey, Front Row Reviewers
Agatha Christie's classic mystery novel, Murder on the Orient Express, comes to life on stage in Pioneer Theatre Company's (PTC) production, as adapted by award-winning playwright Ken Ludwig. Christie's novels are known for their complex plots and clever twists, and Murder on the Orient Express is no exception. From the moment the curtains open, we are transported to the luxurious setting of the world-famous train, and the talented cast brings to life the complex and intriguing characters that populate this mystery with exceptional prowess. Pioneer Theatre Company has done a superb job of adapting the story, and the audience will surely have a thrilling time.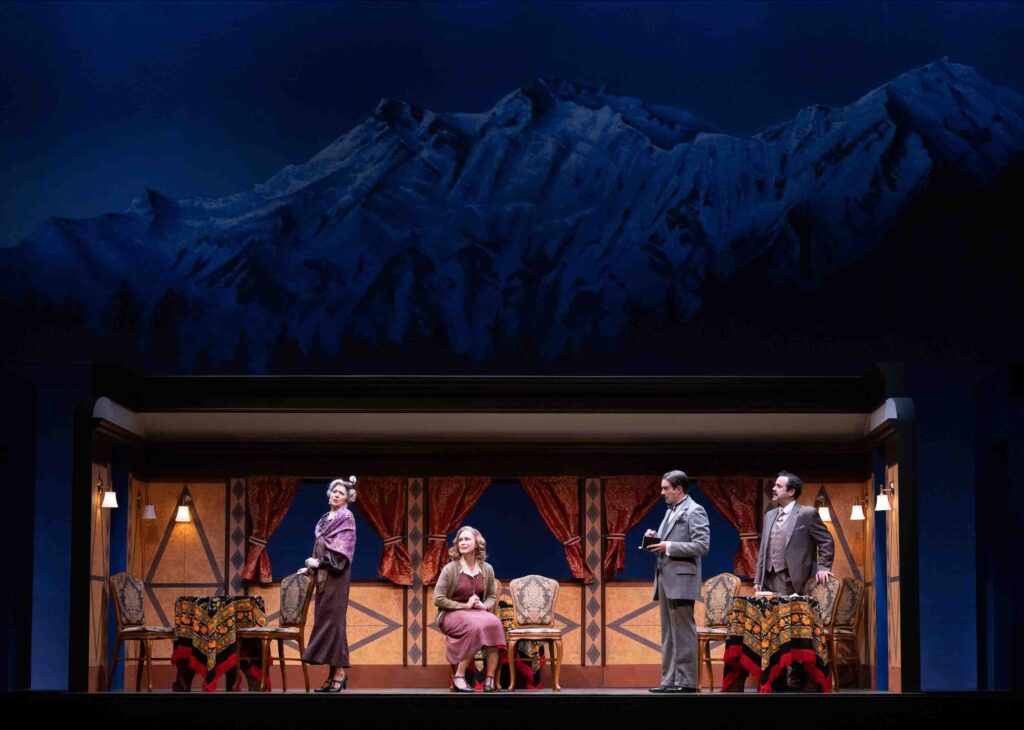 Set in 1934, the play primarily takes place aboard the Orient Express, a lavish train bound from Istanbul to Western Europe, which becomes snowed in. The passengers are an eclectic crew, including an American tycoon, a Russian princess, a Scottish colonel, and an eccentric Wisconsinite. In the middle of the night, one of the passengers is found murdered in their compartment. The door is locked inside, and there is no sign of forced entry. Belgian detective Hercule Poirot, who happens to be on the train, is called upon to investigate. Poirot interviews all the passengers, and it soon becomes clear that everyone has a secret.
The production's ability to balance humor and drama is surprising even if you are already familiar with the source material. Christie's Poirot always provides dry wit, but Ludwig's (Playwright) adaptation provides plenty of laughter throughout the play. Whether we get the droll humor of Shakespearean allusions or the running gags of a hilarious farce, Ludwig unexpectedly creates levity amongst a ratcheting tension through moments of real suspense. This makes the play both entertaining and enthralling. Ludwig's adaptation of Christie's iconic novel is faithful to the original story. Still, he has added some new twists and turns that keep the audience guessing until the end.
Director Melissa Rain Anderson does a masterful job of creating a suspenseful atmosphere. The play is well-paced, and the tension builds steadily as Poirot unravels the mystery. Anderson's direction is sharp. She allows each character to shine, never letting the mystery get lost in the constant barrage of personalities. With so many people in such a small space, it is easy to muddle and confuse, but Anderson's style is punctuated with clarity. What makes her direction remarkable is her attention to detail. Like Poirot, she focuses on the little things to create something exquisite. As the play progresses to its end, Anderson keeps the experience engaging and engrossing.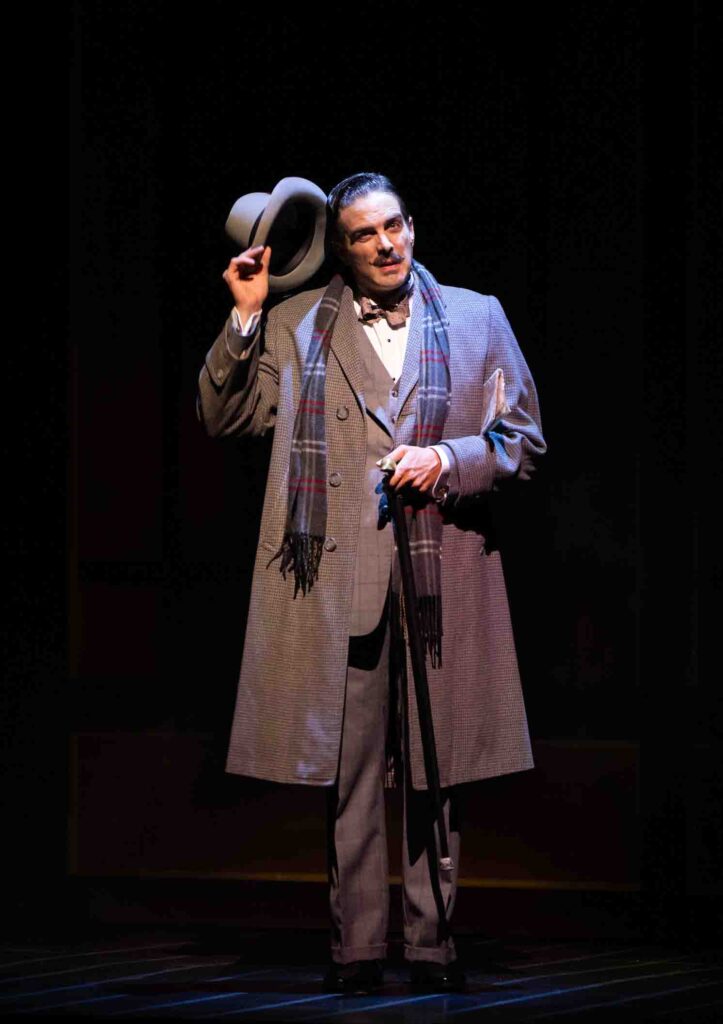 The cast was equally exceptional, with each actor bringing their own energy and interpretation to their roles. John Tufts (Hercule Poirot) is particularly impressive, delivering a charismatic and charming performance that perfectly captures the character's essence. Tufts' Poirot is dripping with keen intellect and sophisticated joie de vivre as he pieces together the clues and reveals the killer's identity.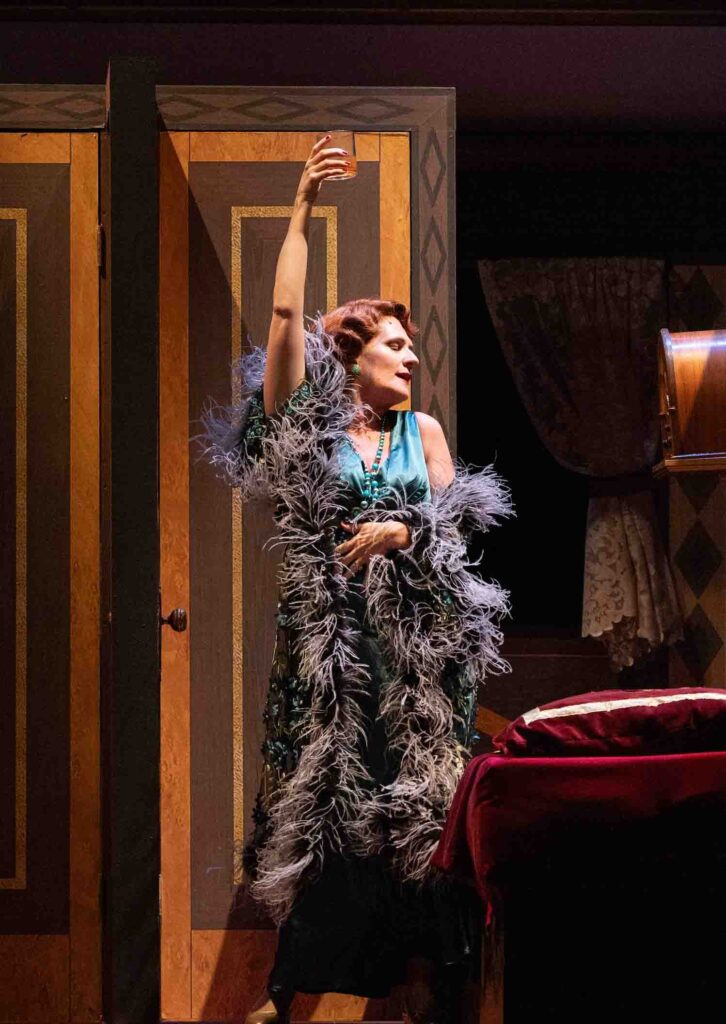 With a menagerie of characters, the stage lights up with actors who provide the audience with well-developed and believable people, allowing us to find ourselves easily rooting for or against them. Edward Juvier (Monsieur Bouc) is delightful, and his presence is hypnotic. Andrea Morales (Mary Debenham) and Robert Scott Smith (Colonel Arbuthnot) make for a steamy couple whose romance we want to see play out long after the play ends. Bonnie Black (Princess Dragomiroff) is one of the character's most elegant and lovely incarnations – stage or screen. Amy Bodnar (Greta Ohlsson) is hilarious, with a comic flair such that you cannot wait for her next line. Gisela Chipe (Countess Andrenyi) moves with sophistication and charm, having a strong presence. Anne Tolpegin (Helen Hubbard) is an equal parts comedian and dramatic actor; both she does with rare skill. Matthew McGloin (Hector MacQueen) is entertaining, adding a sharp contrast to the others onboard. Alec Ruiz (Michel the Conductor) holds the whole production together.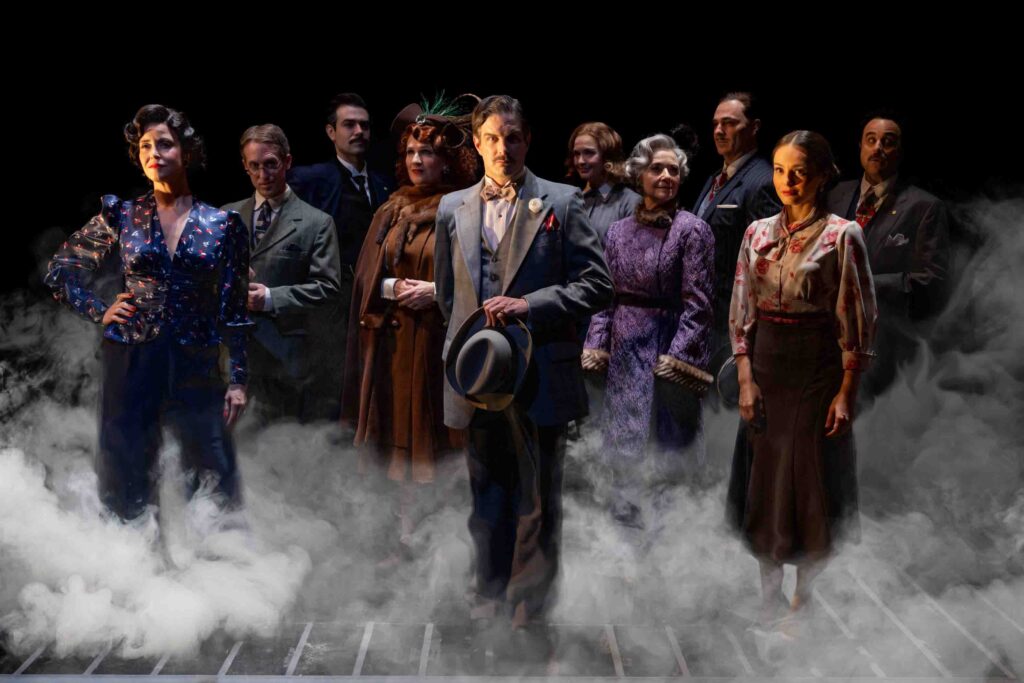 Thanks to the intricate design, Jason Simms (Scenic Design) transports us into a world of opulence and mystery. The set design is stunning, with the luxurious train cars and compartments looking authentic. The stage is transformed into the sumptuous Orient Express train, complete with detailed furnishings, and the snowy mountain backdrop adds to the experience's authenticity. The stylish train moves to reveal new locations in our first-class accommodations, and Simms' work is transcendent in making us feel like intimate voyeurs in a highly claustrophobic world. Important to the storytelling aspect of this play, Jaymi Lee Smith (Lighting Designer) brings a moody ambiance and creates a thrilling climate for the action.
The train is a looming character in the story, and to bring that to life, a special shoutout is due to Emily Nacrissa Griffith (Stage Manager) and the stage crew. Being able to keep up with the scene changes, lighting, and sound cues is a wonder.
The attention to detail in the costumes is marvelous, and Phillip R. Lowe (Costume Design) spared no expense in ensuring that every aspect of the clothing is flawless. From tailored suits to elegant dresses, every piece of the wardrobe perfectly captures the time period and the characters. With so many distinct personalities, accurately representing them through clothing, hair, and makeup is vitally important. Lowe and Tami Lee Thompson (Hair & Makeup Designer) do this with fashionable aplomb.
Agatha Christie's Murder on the Orient Express at Pioneer Theatre Company is among the most engaging and captivating plays. Christie's ability to weave a mystery, to keep us guessing, and to surprise us has always been remarkable. Her tales still fascinate us today. Christie's books often deal with love, betrayal, revenge, and justice themes. These themes are still relevant today and help make her stories timeless. Capitalizing on Christie's timelessness, Pioneer Theatre Company's production is a beautiful adaptation and an exceptional, slick retelling worthy of attention. The impeccable set design, stunning costumes, and talented cast make for an unforgettable experience, leaving audiences on the edge of their seats until the end.
Pioneer Theatre Company presents Agatha Christie's Murder on the Orient Express, Adapted by Ken Ludwig
Simmons Pioneer Memorial Theatre, 300 S 1400 E, Salt Lake City, UT, 84112
September 22 – October 7, 2023
Monday – Thursday, 7:00 PM, Friday and Saturday, 7:30 PM, Saturday, 2:00 PM
Tickets: $42 – $53 in advance; $5 more when purchased on day of show
Students K – 12 or ages 5-18 are half-price Monday – Thursday
Contact: 801-581-6961
Open 10:00 AM – 6:00 PM, Mon. – Fri.
Pioneer Theatre Company
Pioneer Theatre Company Instagram Page
Pioneer Theatre Company Facebook Page
Murder on the Orient Express Promo video
ABOUT PIONEER THEATRE COMPANY (PTC)
Now celebrating its 62nd season, the award-winning PTC is Utah's premiere professional theatre company and leading arts organization of the West. Led by Artistic Director Karen Azenberg and Interim Managing Director Diane L. Parisi, PTC presents world-class productions that celebrate diversity in culture and society and serve as the connecting bridge between art and scholarship as an affiliate of the University of Utah. For more information, visit PioneerTheatre.org.